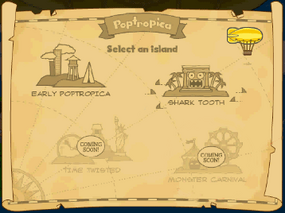 Monster Carnival Island is the only known cancelled island in Poptropica. Almost no information is known about it besides it being cancelled. Although in 2011, the Daily Pop had a section called "The Wayback Machine." The description was: "An early sketch for a long rumored, never-finished island," a undoubtful reference to Monster Carnival. The picture looked something like a ring throwing minigame, with a monster in a top hat and cane on a box.
It is thought by many that the island was never finished, considering the sketch in the Daily Pop, but some think that the island was simply too scary for little kids. In my opinion, though, I think they just came up with 24 Carrot, thought it was a better idea then Monster Carnival, and had it replaced.
The Poptropica Project has started a petition to bring the island back. Many have already signed the petition. A link to the site is here: http://thepoptropicaproject.wordpress.com/monster-carnival-island-petition/
The picture in the link right here: http://poptropicasecrets.com/wp-content/uploads/2011/11/poptropica-map-monster-carnival-island.gif is of the Poptropica map, back before even Time Tangled (in the picture Time Twisted) came out! Spot the Monster Carnival Island icon in the bottom right corner! Weird, how they cancelled an island with it's icon on the map. In it's spot afterwards, was 24 Carrot Island.
Monster Carnival Island was mentioned in the Poptrpoica Creators' Blog, as of April 1, 2012:
"On Monday, we'll be adding noses to every single character on Poptropica, whether you want one or not. Now, your Poptropican will be better than ever at sniffing out clues, stuffing the competition, and running up the score. Not since the introduction of the Costumizer or the removal of the Monster Carnival map icon have we made an update this momentous."
There is also an easter egg that was discovered by Strange Fang (liamie321). In the video for the new "Poptropica Friends" feature, one of the sample user names was "MonsterCarnival2012." (without the period.) When you go into the Poptropica Avatar Studio, type in that username and a poptropican in a chicken suit will come up, with the name "Monster Carnival." The username of the Poptropican can be a hint that the island is coming soon, along with Daily Pop articles from late May.
The dream has been accomplished and is now a island. After waiting more than 7 years it has been released.